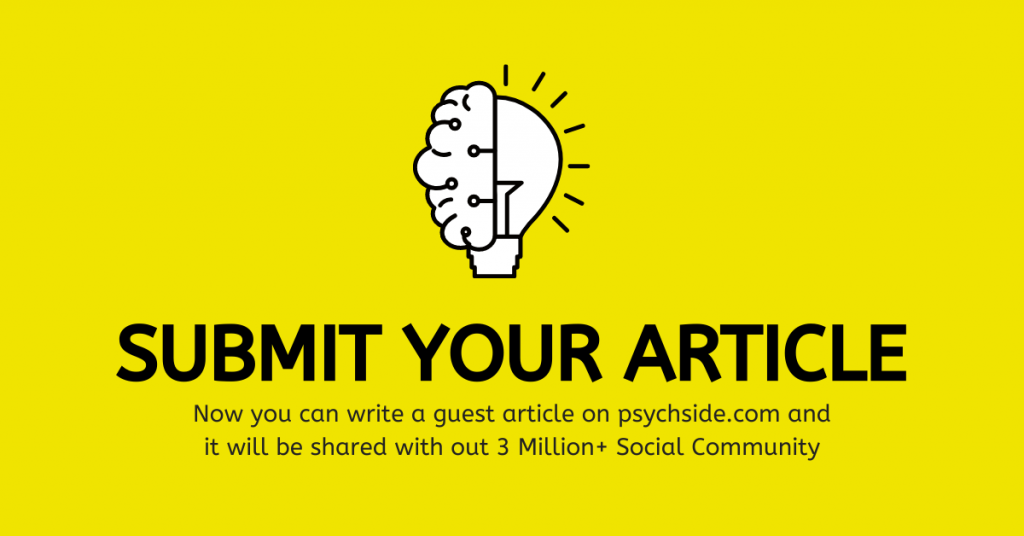 Guest Post on PsychSide
We're looking for highly engaging writers who can provide expert advice or share personal insights and experiences on topics that are related to psychology.
If your guest article gets published on psychside.com, it will be shared with our 3 Million+ Social Media Community.
Before you submit, please run through this checklist. Have you…
Added your name, email address, and 3-5 sentence bio to the top of your post? You can also include a link to your website or social media profiles (optional).
Created a Gravatar profile? The email address you provide us should match the email address associated with your Gravatar account.
Turned your post into an editable Google Doc?
If so, you're ready to submit!
Please share your Google Doc with us at
Writing Prompts
These are some ideas for writing topics, however, we consider articles that are not about these topics, too:
1. Mental Health
Mental health refers to our cognitive, behavioral, and emotional wellbeing – it is all about how we think, feel, and behave. The term 'mental health' is sometimes used to mean an absence of a mental disorder. This is a broad topic, you can choose anything that comes under mental health.
2. Personality
Personality, a characteristic way of thinking, feeling, and behaving. Personality embraces moods, attitudes, and opinions and is most clearly expressed in interactions with other people. It includes behavioral characteristics, both inherent and acquired, that distinguish one person from another and that can be observed in people's relations to the environment and to the social group. This is again a broad topic, you can choose anything that comes under personality.
3. Calling all mental health professionals
Are you a life coach, therapist, counselor, psychologist, or other mental health professionals? Write an article describing a common problem your clients face. Why do people struggle so much with this problem? How does it negatively affect their life? What advice do you give them to cope?
4. Confessions of People
Write a very personal list of things you wish others knew about you as a person (or an individual of your personality type). These are aspects of yourself that you keep hidden from others or don't usually get the chance to explain.
5. Calling all experts
Are you certified or very knowledgeable about personality types? Write an article about different personality types.
6. Confession about Relationship or Relationship Advice
A relationship expert is someone who understands human needs and desires within the context of the way we feel, interacts, connects and behave with ourselves and others; someone who has the solution, techniques, and strategies to achieve the desired outcomes in relationships. Write about your relationship failures or success, what works or what does not in a relationship.
6. Personal Growth
Personal development covers activities that improve awareness and identity, develop talents and potential, build human capital and facilitate employability, enhance the quality of life and contribute to the realization of dreams and aspirations. You can write about that and help people in their growth.
Frequently Asked Questions
Why should I write for PsychSide?
PsychSide gets over a hundred thousand page views a month and has nearly 2 million followers on social media. Writing for PsychSide is a great way to advance your career as a writer, get exposure for your book or business, send SEO juice to your blog — and most important, share your insights and empower other people.
What makes a strong article?
The best articles on PsychSide have these things in common:
They are deeply honest and personal. They don't dance around the details or include vague references to the author's experiences. They include strong examples and paint a vivid picture that other people can relate to.
They dig beneath the surface. The advice isn't oversimplified or clichéd; it's insightful, empowering readers to understand their nature on a deeper level.
The article builds to a clear message/lesson for readers, something that might evoke an "aha!" moment for them.
When applicable, they're practical and actionable. Not all articles need a list of things to do — in fact, some are more powerful without one. But when the topic warrants clear action steps, the article delivers.
They have a strong, clear connection to people or personality type.
They avoid stereotypes and blanket statements about people.
Can I republish my submission on my personal blog?
Absolutely! We also accept submissions that were previously published on your personal blog. However, if we run your article on PSYCHSIDE, we ask that you not republish it on another major website.
Do you pay for submissions?
No, right now we do not pay for submissions but we are working on this and in future we might pay you as well.
How long should my article be?
Between 900 and 1,500 words, please.
Can I include links within the piece?
Sure! Please include links that will be helpful and relevant for the reader — they can be to appropriate posts on your blog or on any other site (the more reputable the source, the better). When you link to other posts on PsychSide, that makes us happy.
Are there any style guidelines I should keep in mind?
Yes! They are:
Where possible, include numbered lists, bullets, and subheadings.
Remember that for online writing, clarity and easy reading are key.
Use casual, everyday words rather than academic or formal language. Avoid overly promotional language.
When applicable, include expert advice. Link to a study or expert source to help prove your point.
We allow the use of "they" as a singular, gender-neutral pronoun.
We spell "extrovert" and "extroversion" with an "o" not an "a." Although both spellings are correct, "extravert" is generally used in the literature of psychology, while "extrovert" is the most prominent spelling in the United States today and the principal spelling in standard dictionaries.
Are there certain topics you avoid?
Yep. Generally, we reject pieces that give oversimplified or generic advice. Make sure your article provides real value to the reader. You can do this by sharing your personal insights, citing studies/research, or providing expert advice.
Should I write a headline?
Please do! We reserve the right to tweak it for SEO, style, or just to make it more attention-grabbing. But if you want to suggest one, that makes our job easier.
Will you edit my post?
We'll edit for content and clarity, doing our best to preserve your voice. You'll be able to see our edits in your Google Doc.
What should I write for my author bio?
Author bios can be fun and casual, or they can showcase what makes you an expert in your field. To get a better sense of what to write, check out some of the author bios on this site. Aim for 3-5 sentences.
What about my headshot?
Our system uses your email to grab your headshot from Gravatar, so make sure your photo is uploaded there. Important: Make sure the email address you give us is the same address associated with your Gravatar account. Otherwise, we won't be able to access your photo.
Will you respond to my submission?
We'll email you if we plan to publish it. Unfortunately, we can't publish every submission we receive. Because we have a very small editorial team, we don't reply if we don't plan to publish the article. Please know that it can take up to two weeks to review your submission; if you have not gotten a reply within four weeks, you can assume that it has not been accepted.
What should I do after my article is published?
Share it with everyone! Sharing your article helps PsychSide grow. Also, when it runs, we hope you'll be active in the comments, responding to readers' questions or thoughts.
We look forward to your contribution!