Don't we all love watching movies! And once in a while there is a dialogue in a movie that leaves a mark in our heart and sometimes, in our mind. There are quite a few Hollywood stars who have left their booming voice echoing in our minds. They say a few things that leave us inspired. At times, all we just need is a little inspiration in our lives and what better than to get inspired from the actors we love. So, we have compiled a short list which quotes these famous Hollywood actors and which inspire us so much.
Also read: How To Master Your Emotions To Win Psychological Fights Inside You
Here are 20 Inspirational Quotes From Hollywood
Nobody is gonna hit as hard as life, but it ain't how hard you can hit. It's how hard you
can get hit and keep moving forward. It's how much you can take, and keep moving forward. That's how winning's done. – Rocky Balboa (Sylvester Stallone)
giphy.com
Also read: 5 Ways To Make Sure You Never Get Friendzone'd
It's what you do right now that makes a difference. -Black Hawk Down.
Don't ever let somebody tell you… You can't do something. Not even me. All right? … You got a dream… You gotta protect it. People can't do somethin' themselves, they wanna tell you you can't do it. If you want somethin', go get it. – The Pursuit of Happyness, Christopher Gardner (Will Smith)
Also read: What Your Ruling Number Says About Your Personality?
Remember kid, there's heroes and there's legends. Heroes get remembered, but legends never die. Follow your heart kid, and you'll never go wrong. -The Sandlot
Do, or do not. There is no "try". – Yoda, Star Wars
Also read: 7 Reasons Why It's Awesome Being A Woman
Life moves pretty fast. If you don't stop and look around once in a while, you could miss it. -Ferris, Ferris Bueller's Day Off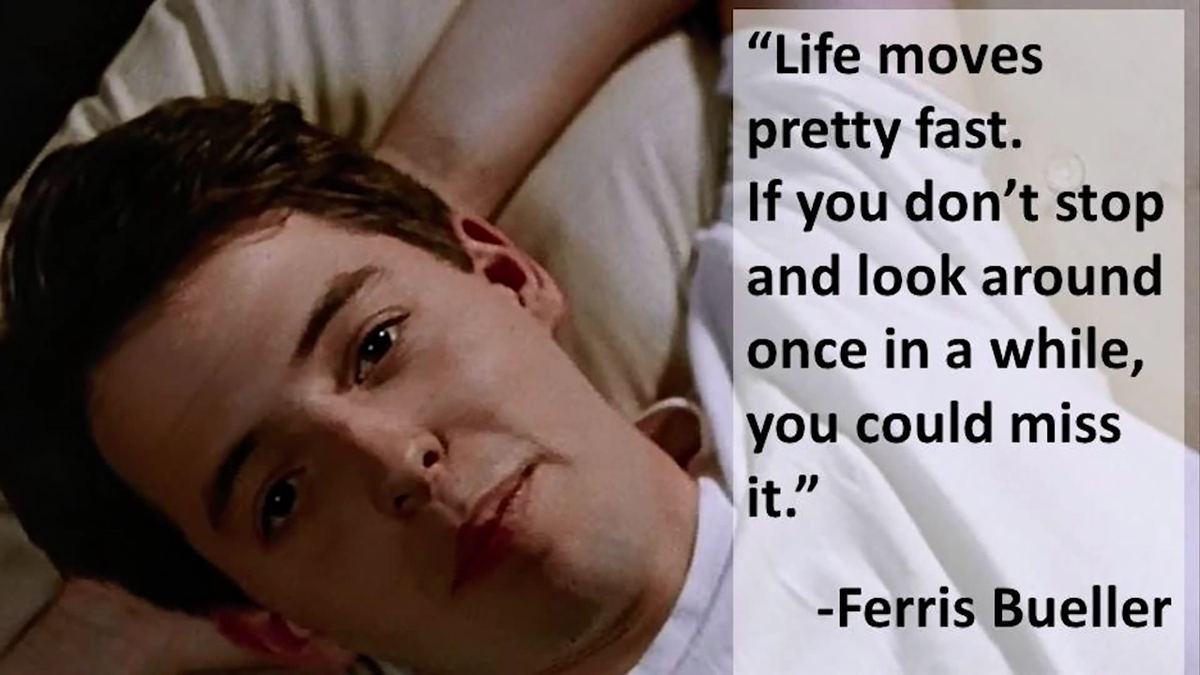 Also read: 5 Psychological Ways To Recognize Mean People And Avoid Them
We are who we choose to be. – Green Goblin, from Spider-Man
My momma always said, "Life is like a box of chocolates, you never know what you're gonna get." – Forrest Gump
Also read: 10 Best Gift Ideas For Long Distance Relationship
In this life time, you don't have to prove nothing to nobody, except yourself.And after hat you've gone through,if you haven't done that by now, it ain't gonna never happen. –Rudy , Fortune (Charles S. Dutton)
To give and not expect anything in return, that is what lies at the heart of love.
–An Ideal Husband Some people can't believe in themselves until someone else believes in them first. -Sean Maguire, Good Will Hunting
Calling someone fat doesn't make you any skinnier. Calling someone stupid doesnt make you any smarter. All you can do in life is try and solve the problem in front of you." – Cady, from Mean Girls
Also read: 7 Funny Questions To Ask A Girl And Leave Her ROFL
It is not our abilities that show what we truly are. It is our choices. – Dumbledore, Harry Potter and the Chamber of Secrets
You know, the ancient Egyptians had a beautiful belief about death. When their souls got to the entrance to heaven, the guards asked two questions. Their answers determined whether they were able to enter or not. 'Have you found joy in your life?' 'Has your life brought joy to others?' – Carter Chambers, The Bucket List
After a while, you learn to ignore the names people call you and just trust who you are. – Shrek
Also read: How To Deal With A Hot Girlfriend
Great men are not born great, they grow great.
-Mario Puzo, The Godfather
Only if you find peace within yourself will you find true connection with others. -Before Sunrise
Also read: 10 surprising factors unconsciously creating Depression in your life
To find something, anything, a great truth or a lost pair of glasses, you must first believe there will be some advantage in finding it. – All the King's Men
I know what I have to do now, I've got to keep breathing because tomorrow the sun will rise. Who knows what the tide could bring? – Cast Away
Life is not the amount of breaths you take, it's the moments that take your breath away. – Hitch (Will Smith)
Also read: 7 Sweet Little Ways To Tell A Girl She's Gorgeous